CanSkate
Children's learn-to-skate program. Skaters must be able to get up unaided after falling, shuffle forward unassisted and should be just starting to skate backwards. CanSkate offers great preparation for hockey and figure skating. Skaters will be evaluated at the first class and grouped according to skill.
The CanSkate program is organized into three Fundamental areas and divided into six stages of
learning. The Fundamental areas are:
Balance: Focus on forward skills, pushing technique and edges.
Control: Focus on backward skills, stopping and speed elements.
Agility: Focus on turning and jumping skills.
Once stage 5 is fully achieved (agility, balance & control), if interested in learn-to-figure-skate, they will be eligible for our Intro to Preliminary program, if space permits.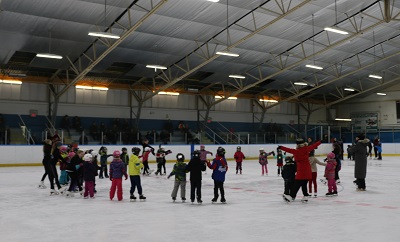 Average group size is 10 skaters.
Private lessons will be able to start after Thanksgiving during the 10min cool-down period.
Helmets are mandatory for CanSkate. Refer to the Helmet Policy page in the side navigation for more information.
*Note: minimum age requirement is 4 years of age by December 31 of the registration season.
Pre-CanSkate

The minimum age is 4 years old by December 31 of the registration season.
Pre-CanSkate groups are a component of CanSkate. Participants who have never skated before or who are not confident with their balance on the ice are considered Pre-CanSkaters (regardless of age, however, age range is typically 4-6 years old).
Pre-CanSkaters work on the essentials needed to move safely and effectively on the ice so that they can rotate to the different learning stations. There are eight basic skills designed to ready them for Stage 1.
Pre-CanSkate is not a program on its own. It is a readiness vehicle to prepare skaters for CanSkate. Once skaters are mobile, their group rotates to the different learning stations as well.

Helmets are mandatory for Pre-CanSkate. Refer to the Helmet Policy page in the side navigation for more information.
Canskate_Award_Poster.pdf
The awards consist of:
• 15 ribbons (1 Balance, Agility and Control ribbon for each level)
• 5 badges (1 badge per stage)
To receive a badge, skaters must achieve all ribbons (Agility, Balance and Control) from the corresponding
stage. The skill requirements for each Fundamental area are indicated on the report card.
CS_ProgressReport.pdf Report Cards are given out twice a season.


Session Format
Skate Canada professional coaches teach this 50 minute program, with the help of program assistants (PAs). Children are separated into colour coded groups based on their ability. Skaters have fun at various stations while working on the skills needed for the different badge levels. CanSkate lessons include a group warm-up and cool-down using the full ice.
The first 10 minutes consists of a warm-up for all skaters lead by our program assistants. The skaters are then separated into their groups.
Skaters, in their groups, proceed through three fundamental areas, each for 10 minutes, each with a different coach.
The three fundamental areas are Agility, Balance, and Control/Challenge Zone and going around the perimeter of the ice is called the Fast Track.
The session ends with a 10 minute cool-down led by program assistants and coaches.
Each child's skill level is reviewed and evaluated during every group lesson with the professional coaches and ribbons are awarded as quickly as achieved.